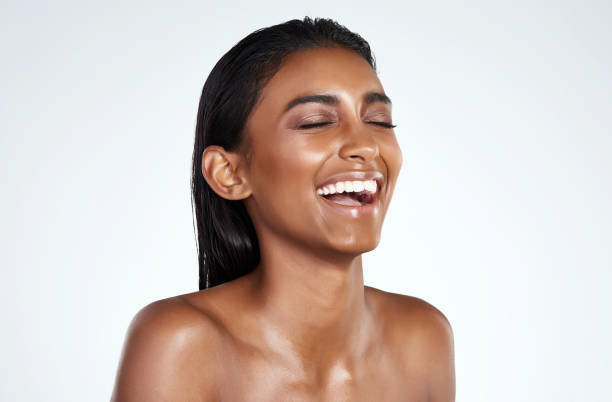 Ayurveda recommends a
regular routine
to take care of skin and hair. The secret to a healthy skin is consistent care and self love. Observe your skin in the mirror before sleep and love yourself a bit more! Catching the changes and skin damage early on is important.
The first step to a healthy skin is good amount of
water intake
and following a healthy sleep cycle. Ideally a few hours after sunset is recommended for sleep. In modern times, it is important to stay away from blue light and electronic gadgets an hour before sleep. Dim the lights, and allow your mind & body to adjust to sleep. The first important rule is to
'Respect the Natural Rhythms
'! A good sleep is also important for stress management which can definitely impact skin health.
Although the routine varies based on the primary imbalances and the natural state of a person, some steps that are common for all skin types. Some of our Ayurvedic tips for a good night skin routine for modern living are listed below:
Eat a lighter dinner meal, so as to give the body to rest and allowing healing.
Remove all makeup with a gentle natural cleanser (we highly recommend our Royal Routine Facial Cleanser or our Gulab Ranawara Face Wash Powder to give your facial skin that absolute pure cleanse).
Always gentle pat dry face with a soft, cotton towel.
A gentle oil massage to face can do amazing wonders to the skin and help overnight especially when the product is right. Our Divine Saffron Kumkumadi Serum is especially tailored for skin for sleep time ! See the difference yourself after trying consistently for 6-8 weeks. 
Take a cotton ball, gently glide over coconut oil and softly tap on the lips. Alternatively, use an all natural lip balm for lip skin health (we highly recommend our Pink Sapphire Lip Mask).
Undereye area could be quite sensitive. It is very important to take care of tired eyes, especially in our modern times where we overuse our eyes. We recommend our Nourish Under Eye Cream, which is specially curated with clean, magical botanics.
Most importantly, try to relax. Remember that sleep time is your time - and keep that stress at bay! Everything can wait!
What is more beautiful than aging gracefully!?